Our Services
When you are gone, many things have to be done on a daily basis to make certain your pets are safe, secure, comfortable and happy. We go through a 25 point checklist every time we visit with your pets.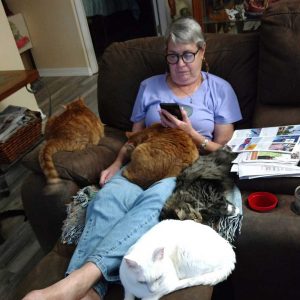 Sanitizing to reduce illness & disease
Releasing your security system
Bringing in the newspaper
Bringing in the mail
Giving each pet clean, fresh, water
Giving each pet the proper amount of food
Making sure each pet eats their food
Checking on the welfare of shy or reclusive pets
Restoring the supplies in the proper place
Giving treats (if they are allowed)
Cleaning up any "accidents" or messes that may occur
Watering plants
Having play time with each pet
Cleaning the litter box
Maintaining a comfort level in the home you set
Checking all internal and external doors and windows
Monitoring the condition of the home
Ensuring the house fence perimeter is secure
Changing the lighting arrangement
Making sure pets are in their proper place
Making notes for the owners
Administering medication if needed
Checking each pets condition
Re-locking the house
Restoring the security system
Pricing
Pet Sitting/Walking – Starting at $25 per visit for 30 minutes – Rates determined at time of consultation (how many pets, administer of medicine and distance to client).
Overnight stays – Starting at $75 per 12 hours
Pet Taxi for Grooming or Veterinarian
Round trip $40.00
Staying for the visit $25
Farm Animal Pricing – Rates are determined at the time of consultation. Determined by the time involved, and location to and from.
If you have pets, as so many families have now, and the question comes up on how to take care of them while away for an extended period of time, please consider a certified pet sitting service to take care of your most precious loved ones.
A certified pet sitting service can provide peace of mind and take immediate care of your pets when there is no available means to take care of them in either an emergency or if you just would like to take the family on a relaxing vacation.